Does unique content rule out clicks?
Does unique content equal new content? Sometimes, but far from every time. You may have an original and unique idea or opinion that you put in writing, but isn´t it really the personal angle that makes the content really unique?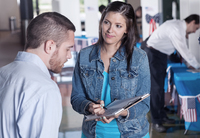 Things to consider

As a writer I need (and want) to create original content. In order to succeed I need to consider my readers and really think about what I want to tell them; my main purpose and true message.
I think we can all agree that old news is a no-no, right? A blog post, article and/or ad needs to be fresh, original and at least somewhat true, especially when posted online. There is so much content out there, but is any of it read - I mean truly read? I know I skip most of it...

Do your (keyword) research
I´m guessing you´ve heard of Search Engine Optimization by now, and maybe you´ve heard enough too. But this is actually a good friend when trying to succeed as a writer. There are certain strategies that should be followed, one of them being Keyword research. There are terrific tools to use too (e.g. Ad Words from Google).
With this (and/or other) tool you´ll be able to create a list of search terms, which you will be able to use as you write your next blog post or article. If you let them become part of the original idea, they will help you create unique content. Don´t forget to personalize it too!